CREW MEMBERS
Dr. Emma Christopher
Emma is an academic historian, writer and anti-slavery campaigner who is on the faculty at the University of Sydney and currently holds a five-year Australian Research Council Fellowship.  She has previously held fellowships at Yale University and Monash University, and has worked extensively in West Africa.  Her first book, Slave Ship Sailors and their Captive Cargoes, was hailed as "the most important book on the Atlantic slave trade in a very long time"; her second book, A Merciless Place, jointly won the Ernest Scott prize for best book in Australian history and won the Kay Daniels prize for best book in Australian colonial history.  Her new book, The Devils at Hotel Africa, about a slave 'factory' at Cape Mesurado, Liberia, is coming soon.  They Are We is her first film.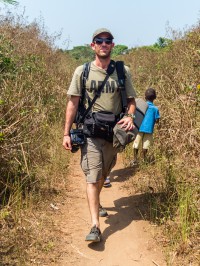 Sergio Leyva Seiglie 
Sergio is the production manager of They Are We and also the stills photographer, responsible for the photographs on this website.  He has previously worked with Javier on several award-winning productions.  A talented photographer, his work has been featured on Cuban television and exhibited around the world.  His solo showcase Street: In this Place, In this Moment, was one of the most widely attended events of 2012 in Havana and he later held an exhibit of still photos from this project at Casa de Africa in Havana, where his photographs shared the stage with wood carvings made by Alfredo Duquesne.
Researching, planning and filming as part of the documentary were Sergio's first experiences of West Africa.  Unable to say the name Sergio, the villagers gave him the name Musa, jokingly declaring him an honorary member of the extended Musa clan of Upper Banta.
Lansana Mansaray (Barmmy Boy)
Barmmy grew up in Cockle Bay, Freetown, Sierra Leone, largely raising himself by fishing.  After one of his brothers was killed by a stray bullet during the civil war, Barmmy became a rap star and filmmaker, eventually winning a place in Hull, UK, to attend film school.  Following graduation he returned to Freetown to be one of the founding members of 'We Own TV', which gives Sierra Leoneans their own media voice.  He has worked on They Are We since the early days of the project and was instrumental in helping find the answers as to the Cubans' origins.  During the reunion trip the Cubans made to Sierra Leone, Barmmy worked as co-Director of Photography with Javier.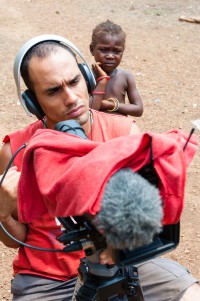 Javier Labrador Deulofeu 
Javier is a cinematographer and filmmaker from Havana.  He graduated in 2012 from Cuba's Escuela International de Cine y Television (EICTV) and the film he submitted as his final work went on to win the Coral Negro prize at Havana's Festival of Latin American Cinema.  He first met Emma in 2009 while they were both filming with the Gangá-Longobá and following a chance meeting two years later when she returned to Cuba, he became a joint Director of Photography for the movie.  He loved Sierra Leone and Mokpangumba, and the people there hugely enjoyed his company, giving him the name Kpanabum.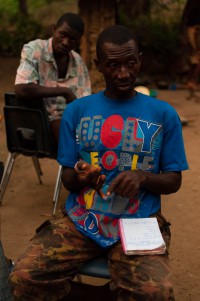 Joseph C. Foday
Joseph, known to everybody in Mokpangumba as Uncle Foday, is the headmaster of the village.  Along with Solomon (see the 'characters' page), he is one of the few people in the village who speaks Mende, Krio and English, and so proved to be an indispensible translator and fixer for the project.
Joseph was born in Borborbu, close to Mokpangumba, but moved to the village when he was five years old to live with his uncle, who was Solomon's father.  He founded Mokpangumba's first school in 2007 and having encouraged parents to send their children to school by promoting the benefits of education, he has increased attendance to 84 kids, both boys and girls.  He loves to read and serves as a pastor in the church.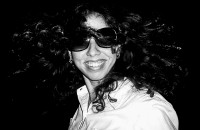 Joanna Montero
Joanna is an editor working at the Instituto Cubano del Arte e Industria Cinematográficos (ICAIC) [Cuban Institute for the Cinematographic Art and Industry]  in the Post Production Department. She has worked as an editor on many award-winning movies and documentaries and has assisted in many of the Escuela International de Cine y Television's (EICTV) editing workshops. She has also directed several small films.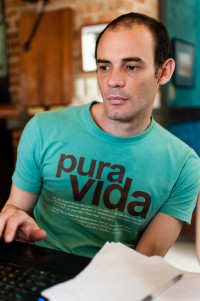 Jorge Felipe Gonzalez
Jorge is a historian who worked with a large number of academic historians as they visited Cuba, where he was born and raised. He graduated at the top of his faculty at the University of Havana and became an expert on the transatlantic slave trade, with a special interest in the connections between Rio Pongo, Charleston and Havana. His is now pursuing a PhD at Michigan State University and hopes to visit Africa soon to pursue his own research.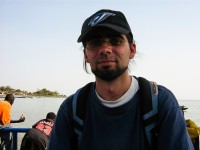 Manuel Barcia
Manuel is a Professor in Latin American Studies at the University of Leeds. Born and raised in Havana, he went with Emma the first time she went to Perico to meet with the Ganga-Longoba. He was also with Emma the first time she attended their San Lazaro celebrations.  They have since discussed the project many times over many mojitos.